Being good at your job will make your boss happy. But to secure the best opportunities, you also need to interview well and network effectively.
These are just two of the skills covered by The 2021 Career & Self Development Master Class. This collection of 10 courses can help you claim your dream job, with 20 hours of real-world knowledge. It's worth $2,000, but Hannity viewers can get the training today for just $39.99.
The concept of a "job for life" is dead and gone. According to the Bureau of Labor Statistics, the average person today will go through 12 jobs in their working life.
Some people climb up the career ladder with every new job, while others stay at the bottom. In many cases, the difference is simply about presentation.
This bundle shows you how to impress recruiters and make yourself more employable, with 10 courses filled with expert tips.
Through concise video lessons, you'll learn how to design the perfect résumé and navigate interviews with confidence. You also discover how to find opportunities, negotiate better deals, and build a professional brand on social media.
The content comes from several top instructors, including Chris Haroun — an award-winning business school professor and MBA graduate with 4.5 stars on Udemy.
Order today for just $39.99 to get lifetime access to all 20 hours of training, normally priced at $2,000.
Prices subject to change.
Start Your Six-Figure Career in Project Management With This $46 Training Bundle
From Amazon to Zippo, every top company employs project managers to keep things running smoothly. This highly-paid role is open to anyone, and the skills can be transferred to any industry.
The Premium 2020 Project & Quality Management Certification Bundle helps you break into this lucrative career, with 120 hours of training. The courses are worth $2,699 in total, but Hannity viewers can pick up the training today for just $45.99.
You might think that being a project manager is about experience and charisma. But in reality, recruiters are looking for people with knowledge and the certifications to prove it.
You can think of this bundle as your ticket to a six-figure career. With 11 separate courses working towards top exams, the training covers everything you need to know.
Through engaging video lessons, you learn about the most popular systems for project management. This includes Six Sigma, Scrum, and Agile. Along the way, you discover how to plan projects, control costs, motivate your team, and manage risk.
The training also helps you earn PMP and CISSP certifications. The former is considered the gold standard for project management; the latter is essential if you plan to work in tech.
These courses are delivered by experienced project managers and coaches, and you get unlimited access to the content, so it's easy to go at your own pace.
Order now for $45.99 to get all 120 hours of training and save over $2,600 on the full price.
Prices subject to change.
Last Chance Deal: Save an Extra 40% on This Bundle of Award-Winning Mac Apps
While Cyber Monday has come and gone, some digital deals are hanging around a little longer. If you happen to own a Mac, this one is definitely worth your attention.
The Official Cyber Monday Mac Bundle brings together 12 award-winning apps, including Parallels Desktop Pro and Luminar 4. It's a fantastic upgrade for any Apple machine, and Hannity viewers can pick up the bundle today for just $41.99 with promo code CMSAVE40.
https://www.youtube.com/embed/VH0Op6gw3as
Whether you want to improve your productivity, get creative, or upgrade the security of your Mac, this bundle has everything you need. What's more, every app has earned rave reviews.
Among the headliners is Parallels Desktop Pro. This powerful tool allows you to use Windows software seamlessly within macOS, just like any other application.
Another star name is Luminar 4. Winner of the Outdoor Photographer Best Photo Software award, this photo-editing app uses AI to make the process faster and easier. Along with smart controls, it provides 70 one-click styles designed by professional photographers.
To help you get things done and increase your productivity at work, the bundle includes PDFpenPro 12. Rated at 4.7 stars on MacUpdate, this app allows you to edit PDF documents just like Word files.
You also get lifetime online protection with Goose VPN, unlimited language learning with uTalk, the powerful scheduling of BusyCal 3, and much more.
The full line-up is worth $1,266, but you can get the bundle for $41.99 with code CMSAVE40. This Cyber Monday deal is disappearing very soon, so don't miss out!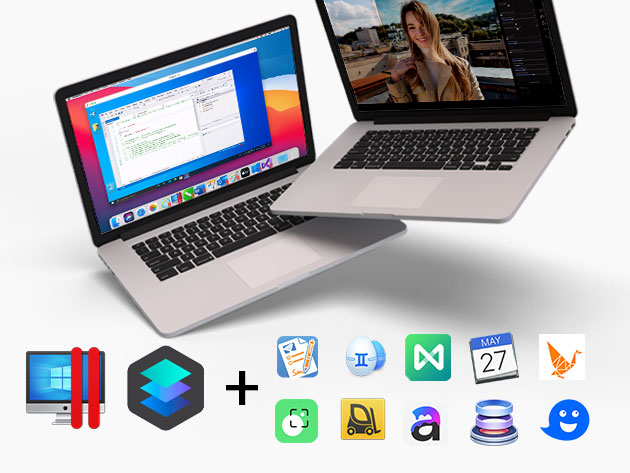 The Official Cyber Monday Mac Bundle Ft. Parallels Pro & Luminar 4 – $41.99 with code CMSAVE40
See Deal
Prices subject to change.