From fries to chicken wings, fried food is pretty difficult to resist. However, all that oil does nothing for your health or your waistline.
If you want to improve your diet this year, the Paula Deen 1700W Stainless Steel 10Qt Digital Air Fryer can help. 
This machine uses only a tiny amount of oil for cooking, and it's really easy to use. Normally priced at $300, it's now only $159.99 in a special deal for Hannity viewers.
Instead of dunking your ingredients in oil, the air fryer applies a thin layer to the surface. The device then circulates hot air to cook your food. 
The results are every bit as tasty, but less greasy and much better for your long-term health.
This particular air fryer has a capacity of 10 quarts, which is easily enough for the whole family. It also has 10 preset functions, allowing you to cook up something delicious with a tap.
A digital control panel lets you select the correct option in seconds, with temperatures between 250°F and 400°F. The presets cover pizza, wings, beef, fish, fries, vegetables, baking, reheating, and more. 
Inside the fryer, a non-stick ceramic coating ensures you won't have to scrape food off the sides. Once you have finished, the device is very easy to clean.
Order today for just $159.99 to get the Paula Deen air fryer, worth $300. You have a choice of three colors: Silver, Red, and Blue.
Prices subject to change.
Learn A New Language with 76% Off This Bundle of Apps Ft. Rosetta Stone
If you're still spending more time at home than usual and you've somehow managed to stream all of Netflix, you might be looking for new ways to entertain yourself.
The Social Distancing Lifetime Subscription Bundle brings together an award-winning language learning app, a library of non-fiction reads, and one of the best online privacy solutions. These best-selling apps that will help you learn new skills at home would usually cost a whopping $844, but they're 76% off for a limited time, allowing you to pick up the bundle for just $199.
The star name on this roster is Rosetta Stone. Named Best Language-Learning Software five years in a row by PC Magazine, this app is "the next best thing to living in a country" according to the Wall Street Journal.
The technology behind the software helps you master 24 different languages to an advanced level, with speech recognition technology that analyzes your accent 100 times every second.
12min Premium Micro Book Library is another great way to learn something new. Available on iOS and Android, this app condenses great non-fiction into short text and audio summaries. You'll never be stuck for small talk at a networking event again.
Of course, you'll want to protect your privacy as you use these apps and pretty much anything else on the internet. That's why this bundle comes with a KeepSolid VPN unlimited lifetime subscription. A VPN (virtual private network) routes your data via masking servers and applies strong encryption, making it virtually impossible for anyone to track you across the web. It was awarded the honor of Top VPN by PC Magazine.
With this bundle, you can enjoy lifetime access to all three apps for just $199 — 76% off the retail price.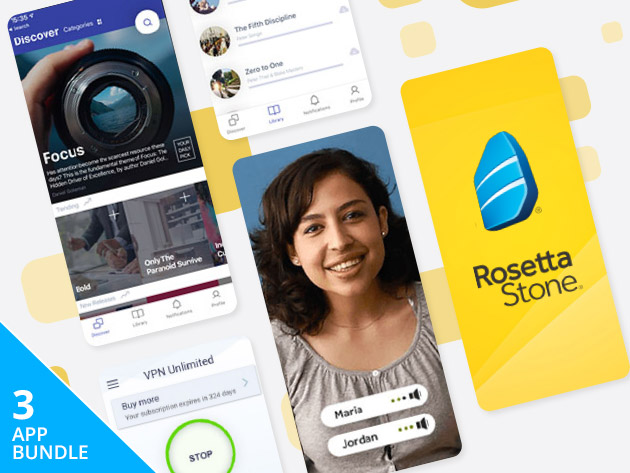 The Social Distancing Lifetime Subscription Bundle Ft. Rosetta Stone – $199

See Deal
Prices subject to change
Learn Everything You Need to Run a Successful Business on Amazon with This $30 Course
Thanks to the pandemic, people are shopping online more than ever. In many cases, unsurprisingly, they go to Amazon to do it.
The Complete 2020 Fulfillment By Amazon Mastery Bundle shows you how to take advantage of this trend and build your own business from home. Thanks to a special deal, Hannity viewers can pick up the training for a limited time for just $29.99.
Amazon FBA is a business model that allows entrepreneurs and small enterprises to sell online and use Amazon's logistics. Many sellers make big money with this method, without having to pack and ship products themselves.
This bundle explains how you, too, can make money through Amazon FBA and other forms of e-commerce.
Through 18.5 hours of video tutorials, you learn how to identify what is selling fast and source some products. This includes tips on secret online deals, working with suppliers, and designing your own products. You also learn how to set up your seller account, game the Amazon pricing system, and prepare your products for FBA.
If Amazon isn't your thing, the bundle provides plenty of content on private label selling and opportunities to make money via eBay.
The four courses in this bundle are worth $796 in total, but you can grab the training now for just $29.99 with lifetime access included.
The Complete 2020 Fulfillment By Amazon Mastery Bundle – $29.99

See Deal
Prices subject to change