The uncertain status of gym access these days makes things tricky when it comes to keeping physically fit and relieving stress. So you'll love our Complete Home Gym Giveaway, including remarkable wellness technology by the workout industry's biggest brands.
Entrance into this contest instantly places you in contention for a comprehensive bundle featuring the hottest fitness gear (valued at $5,287). You'll gain the ability to submit one entry simply by signing up, but there are ways to boost your chances in a big way.
Proceeds benefit the Playing For Change Foundation, a non-profit organization founded in 2007 to use music education to create positive change for children and communities in need around the world.
This amazing prize package consists of:
Peloton Bike+ Basics (Value: $2,495)
Mirror (Value: $1,495)
Bowflex SelectTech 552 Dumbbells (Value: $349)
Theragun Prime (Value: $299)
TRX PRO4 (Value: $250)
Oura Ring (Value: $299)
Gift card to Lululemon, Nike, or Athleta (Value: $100)
It's a bundle that supplies everything you require for a complete and fulfilling workout whenever you need it.
From Peloton's brand new Bike+ to Mirror's best-selling interactive gym, you'll definitely burn major calories with high-quality cardio. For strength training, we're throwing in a set of Bowflex dumbbells that adjust from 5 to 52.5 pounds and a TRX Pro System. And, of course, we've got your recovery and progress-tracking gear covered with the latest from Theragun and Oura Ring, along with a gift card to your fitness apparel brand of your choice.
Looking for the first big step in your new fitness plan? Choose the amount of entries you want to submit and hit "enter" for your chance to win! Give to a great cause and get 100 entries for $10, or 250 entries for $25 , or 1,000 entries for $50, or 1,500 entries for $75, 2,500 entries for $100.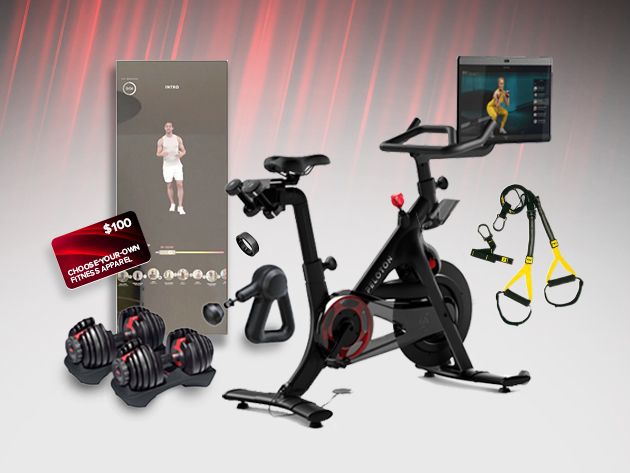 The Complete Home Gym Giveaway Featuring Peloton Bike+, Mirror, Lululemon & More – Value of $5287
See Deal
Prices subject to change.