When you are trying to get things done, working on a dead-slow laptop can be pretty frustrating. But what if you don't have the cash for a brand-new machine?
With a lightweight construction and power under the hood, even a refurbished Apple MacBook Air 13.3″ is still a force to be reckoned with. It's priced at $999 new, but Hannity viewers can pick up a refurbished version today for only $599.99.
One attractive feature of Apple laptops is that they are built to last. This means that when you buy a refurbished Mac, you are getting excellent value.
This 2015 MacBook Air is no exception. It weighs under three pounds, but you get an Intel Core i5 and 4GB of RAM for seamless productivity. Turbo Boost technology preserves your battery life, while Intel HD Graphics 6000 allows the device to handle games and video with ease.
Speaking of graphics, this MacBook has a bright LED display with a native resolution of 1440×900 pixels. You also get a speedy 128GB SSD hard drive for storing media, and Bluetooth connectivity for easy pairing with a variety of devices and peripherals.
But perhaps the most impressive spec is the battery life: 12 hours on a full charge. That makes the MacBook Air 13.3" well suited to anyone who works on the go.
Originally priced at $999 in the Apple Store, this B grade refurb is now only $599.99 in sleek silver. Visit the deal page to see an even bigger discount on the 8GB RAM version.
Prices subject to change
Learn Vital Data Skills to Advance Your Career with This $12 Excel Training
From political polling to financial forecasts, data plays an important part in every industry. To really impress recruiters, you need to show you can crunch the numbers beyond the basics.
The Microsoft Excel: Advanced Excel Formulas & Functions course shows you how, with six hours of hands-on training worth $195 that are just $11.99, thanks to a limited-time extra discount on the sale price of $29.99.
Most of us know how the fundamentals of Excel. But to gain any meaningful insights, you need to understand formulas and functions. This online training helps you master 75 of these operators, along with many other advanced techniques.
Through visual demos, you learn how to create formula-based formatting rules and link data sets from multiple sources with lookup, index, and match functions. The training also shows you how to shortcut tedious analytics tasks and pull real-time data into Excel for live insights.
These skills are valued in a huge range of industries, including finance, marketing, sales, science, and sports.
Your instructor for this course is Chris Dutton, aka Excel Maven. He is a certified Microsoft Excel Expert and analytics consultant who has mentored over 25,000 students from around the world.
Get the Microsoft Excel: Advanced Excel Formulas & Functions training with certification included while it's deeply discounted to $11.99, a total savings of 93% on the retail price.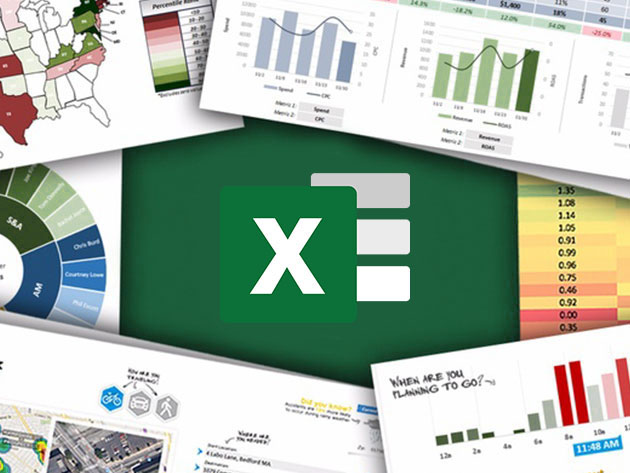 Microsoft Excel: Advanced Excel Formulas & Functions – $11.99

See Deal
Prices subject to change
Dive Into Data: Master Excel and BI With 90 Hours of Training Updated for 2021
From finance to sales, many jobs involve crunching numbers to reveal key insights. For obvious reasons, recruiters are actively looking for people with serious data skills.
The Premium 2021 Microsoft Excel & Data Certification Bundle helps you get ahead of the competition, with 90 hours of hands-on training. The content is worth $2,376 in total — but thanks to a special Hannity offer, viewers can grab this massive class package today for just $69.99.
Anyone who has worked in an office has probably come across Excel before. But have you ever used the software to run financial models and automate analysis? Probably not.
Featuring 24 courses, this online masterclass helps you go beyond basic spreadsheets to become a true data expert. Through video tutorials, you learn a range of data analysis skills and dive into the latest features of Excel and other key apps. Refreshed for 2021, this is the most up-to-date Excel e-learning course package you can find online.
The training starts with the fundamentals, but you eventually end up mastering advanced techniques: using power queries, writing finance programs in Python, creating an HR workflow for Excel, building visualizations in Microsoft BI, and much more. You also discover how to use Tableau, Alteryx, SAS, Google Sheets, and other powerful tools.
Your team of instructors includes Chris Dutton, better known as Excel Maven. He is a certified Excel MOS Expert and online teacher who has helped over 500,000 students around the world.
Order today for $69.99 to get lifetime access to all 24 courses, worth $2,376.
Prices subject to change