Ever walked into an Apple Store and wished you had more to spend? This charity fundraiser might interest you. With the Awesome Apple Bundle Giveaway, one lucky winner will receive two Apple computers, an iPad Pro, AirPods Pro, and an Apple One subscription — worth over $5,000 in total. You can enter for free for a chance to win and increase your chances by donating to a worthy cause.
Apple is known for great design and powerful specs, but these features come at a price. To help you get the perfect set-up, you can enter to win this amazing prize. 
It includes the newly released 24" iMac with Retina 4.5K display. This beautiful desktop beast features the new M1 processor, along with a stunning display and 8GB of RAM. To help you work and play on the go, the prize also includes the MacBook Pro 13". Once again, you get impressive speed thanks to an Apple M1 chip. For even better portability, the winner will receive an iPad Pro 12.9″ — perfect for creativity, movies, apps, and more.
Rounding off the prize are the high-end AirPods Pro wireless earbuds and a five-year Apple One subscription. The earbuds offer intelligent noise cancellation, while Apple One includes premium access to Apple Music, Apple TV, Apple Arcade, Apple News, and more.
For your chance to win, you simply need to donate to the Playing For Change Foundation. This non-profit brings the joy of music to kids around the world and helps talented musicians to support themselves.
You can donate $10 today for 100 entries, $25 for 250 entries, $50 for 1,000 entries, $75 for 1,500 entries, or $100 for 2,500 entries. Good luck!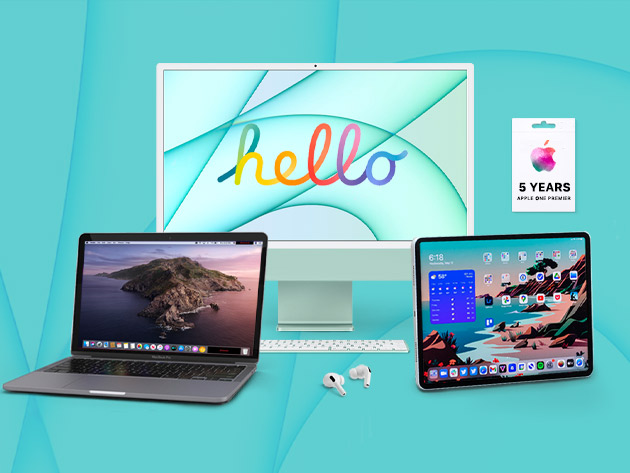 100 Entries to Win the Awesome Apple Bundle Giveaway ft. iMac, iPad Pro, Macbook Pro and More & Donate to Charity – $10
See Deal
Prices subject to change  
Apple Deal: Pick Up a Refurbished Mac Mini Desktop Computer for Just $330 Today
Apple Mac computers are known for three things: great usability, beautiful design, and premium prices. However, they aren't always super expensive, especially if you don't mind buying a refurbished product. By buying refurbished, you can get your hands on a product that works like new at a mere fraction of the cost.
The Apple Mac Mini Core i5 2.5GHz is a powerful desktop machine with a small footprint. It was originally priced at $599. But in a special deal for Hannity viewers, you can pick up a Grade A refurbished model for just $329.99 — that is 44% off the MSRP.
Measuring just 7.7 inches along each side, the Mac Mini is way smaller than most desktop computers. In spite of these minimal dimensions, it provides impressive specs. This version has an Intel i5 processor and 4GB of RAM to help you browse the web and get things done. The internal hard drive offers 500GB of storage space for files, while the processor's integrated HD Graphics 4000 can handle videos and games.
One major selling point of the Mac Mini is connectivity. Its built-in Wi-Fi offers wireless connectivity; alternatively, you can hit top speed via the 10/100/1000Base-T Gigabit Ethernet port. You also have four USB 3.0 ports for hooking up accessories, along with Thunderbolt, HDMI, Firewire 800, and audio ports.
You can use the Mac Mini with any display, mouse, and keyboard. It works perfectly as a small machine for your office, an entertainment center, or a computer for the kids. And by buying refurbished, you can own an expensive piece of Apple tech for a lot less.
Order today for just $329.99 to grab a refurbished model today and save over $269 on the full price.
Prices subject to change 
You Can Get This Refurbished 13.3" Macbook Air Today at 40% off MSRP
When you are trying to get things done, working on a dead-slow laptop can be pretty frustrating. But, what if you don't have the cash to upgrade for a brand-new computer?
With a lightweight construction and powerful mechanics under the hood, the Apple MacBook Air 13.3″ is still a force to be reckoned with. It was priced at $999 new — but Hannity viewers can currently pick up a refurbished version today for only $599.99.
One attractive feature of Apple laptops is that they are built to last. This means that when you buy a refurbished Mac, you are getting excellent value for a high-quality product.
This 2015 MacBook Air is no exception. It weighs under three pounds, but you get an Intel Core i5 and 4GB of RAM for seamless productivity. Turbo Boost technology preserves your battery life, while Intel HD Graphics 6000 allows the device to handle games and videos with ease.
Speaking of graphics, this MacBook has a bright LED display with a native resolution of 1440×900 pixels. You will also get a speedy 128GB SSD hard drive for storing media, and Bluetooth connectivity.
But perhaps the most impressive spec is the battery life: 12 hours on a full charge. That makes the MacBook Air 13.3" well-suited to anyone who works on the go.
Originally priced at $999 in the Apple Store, this refurb is now only $599.99 in sleek Silver. Visit the deal page to see an even bigger discount on the 8GB RAM version.
Prices subject to change.