With so many countries around the world under tight restrictions, travel isn't easy right now, but deals on travel and travel gear are abundant. Take advantage of this chance to get high-quality luggage at a steep discount, and you'll be all set to jet set when the time is right.
Brandless makes some of the best bags and cases for travelers, and Hannity viewers can currently pick up the Carry-On Luggage for $99.99 and the Checked Luggage for just $129 — that is over 40% off MSRP.
As the name suggests, Brandless is a company that doesn't plaster every product with big logos. Instead, you get great features at a very affordable price.
Brandless Carry-On Luggage is a great example. Made from solid polycarbonate and recycled PET, this 21-inch case is perfect for any trip. The shell is reinforced at the corners and can handle being roughed up by baggage handlers, plus there is plenty of room inside for your clothes and accessories.
To keep everything neat, the luggage has zipped sections and buckled straps. The lining is soft and eco-friendly made from plastic bottles that would otherwise have gone to landfill.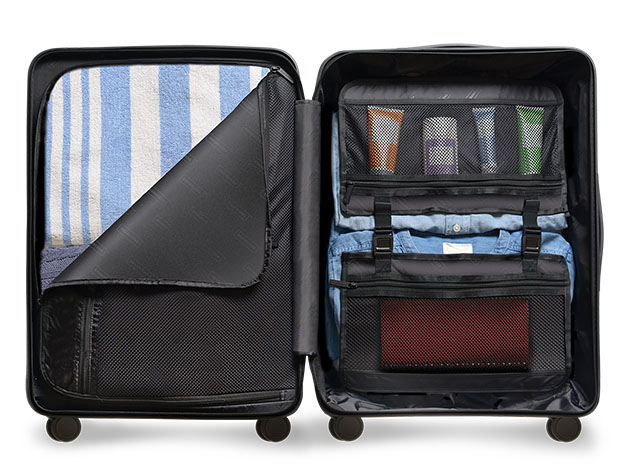 On the outside, smooth-rolling wheels allow the case to glide along behind you. It's also worth noting that this bag isn't very heavy — you can easily carry it on escalators or rush it through a train station, airport, or parking lot.
The 21-inch Carry-On Luggage retails for $180, but you can get it now for just $99.99.
Measuring 25 inches, the Checked Luggage delivers the same features in a roomier package (that you'll need to check at the airport). It usually sells for $220, but you can get it today for $129.
Prices subject to change
WALL STREET JOURNAL: 'Twitter's Partisan Censors Went Far Beyond Normal Content Moderation'
The Wall Street Journal Editorial Board called-out Twitter and Facebook's "partisan censors" in an op-ed published Friday; saying both social media platforms went "beyond normal content moderation" by banning a New York Post article regarding Hunter Biden.
"The political actions taken Wednesday by Twitter—and to a lesser extent Facebook —went far beyond normal content moderation. Here are the facts: Joe Biden supervised the Obama Administration's Ukraine policy while his son Hunter sat on the board of a Ukrainian gas company called Burisma. The New York Post found copies of emails it says are between a Burisma executive and Hunter, including one in which the executive thanks Hunter for 'giving an opportunity to meet' his father," writes the Journal.
"Users who tried to share the link to the Post story were shown a message that they couldn't do so. The New York Post's Twitter account with 1.8 million followers was shut down, as was White House spokesperson Kayleigh McEnany's," adds the WSJ.
"Beyond policy, a free society can't survive if its people aren't committed to it and are willing to justify anything to get power. Silicon Valley's partisan interference flies in the face of American instincts about democracy, fair play, and the spirit of the First Amendment. A successful Senate hearing next week will expose the depth of the ideological ugliness that is taking place, and what is at stake if Big Tech executives abuse their status to limit American political debate," concludes the board.
Read the full op-ed here.
WHAT IS RULE 230? The Legal Policy that Protects Online Platforms from Liability Lawsuits
Just minutes after Twitter and Facebook banned users from sharing a New York Post report on Hunter Biden, thousands on social media called for the removal of their protected status under Section 230 in the Communications Decency Act.
What is Rule 230?
Section 230 states "No provider or user of an interactive computer service shall be treated as the publisher or speaker of any information provided by another information content provider."
Rephrased, it protects companies like Facebook from being held legally liable for content published by their users. Whereas individuals would be able to sue the New York Times or CNN for defamation due to material posted on their websites, the same does not apply to Twitter.
"This legal and policy framework has allowed for YouTube and Vimeo users to upload their own videos, Amazon and Yelp to offer countless user reviews, craigslist to host classified ads, and Facebook and Twitter to offer social networking to hundreds of millions of Internet users," writes the Electronic Frontier Foundation.
If section 230 were denied to giant platforms like Facebook, the company could then be held responsible for millions of posts each day.
Read the full report here.