At times like these, looking after your money is pretty important. Unfortunately, school doesn't teach you about personal finance.
If you want to get educated today, the 2021 Master Your Finances Bundle offers 16 hours of essential coaching. The training is worth a total of $1,194 — but in a special offer for Hannity viewers, you can get it today for just $19.99.
While people like Warren Buffet are best known for speculation, they also take very good care of whatever profit they make. Even if your financial ambitions are much smaller, the same rules apply.
This collection of six highly rated courses shows you how, with smart advice delivered through simple explanations.
The tutorials start by showing you how to read your financial statements to assess your current financial health. This includes analyzing your spending to find waste, and spotting debt that should be paid off.
Additionally, you'll get advice on health insurance, retirement accounts, and personal accounts, plus tips on intelligent saving. Following this advice can set you up for the future and help unlock financial goals that seemed out of reach.
You will also get in-depth lessons on building a debt plan, getting the most out of your credit, investing in assets, and creating diverse income streams.
All of this training comes from SkillSuccess, an e-learning platform that has been featured on Entrepreneur and CNN. With lifetime access, you can revisit the content at any time to brush up on your skills.
Order today for just $19.99 to get all six courses, worth $1,194.
Prices subject to change.
Dive Into Data: Master Excel and BI With 90 Hours of Training Updated for 2021
From finance to sales, many jobs involve crunching numbers to reveal key insights. For obvious reasons, recruiters are actively looking for people with serious data skills.
The Premium 2021 Microsoft Excel & Data Certification Bundle helps you get ahead of the competition, with 90 hours of hands-on training. The content is worth $2,376 in total — but thanks to a special Hannity offer, viewers can grab this massive class package today for just $69.99.
Anyone who has worked in an office has probably come across Excel before. But have you ever used the software to run financial models and automate analysis? Probably not.
Featuring 24 courses, this online masterclass helps you go beyond basic spreadsheets to become a true data expert. Through video tutorials, you learn a range of data analysis skills and dive into the latest features of Excel and other key apps. Refreshed for 2021, this is the most up-to-date Excel e-learning course package you can find online.
The training starts with the fundamentals, but you eventually end up mastering advanced techniques: using power queries, writing finance programs in Python, creating an HR workflow for Excel, building visualizations in Microsoft BI, and much more. You also discover how to use Tableau, Alteryx, SAS, Google Sheets, and other powerful tools.
Your team of instructors includes Chris Dutton, better known as Excel Maven. He is a certified Excel MOS Expert and online teacher who has helped over 500,000 students around the world.
Order today for $69.99 to get lifetime access to all 24 courses, worth $2,376.
Prices subject to change
Learn Vital Data Skills to Advance Your Career with This $12 Excel Training
From political polling to financial forecasts, data plays an important part in every industry. To really impress recruiters, you need to show you can crunch the numbers beyond the basics.
The Microsoft Excel: Advanced Excel Formulas & Functions course shows you how, with six hours of hands-on training worth $195 that are just $11.99, thanks to a limited-time extra discount on the sale price of $29.99.
Most of us know how the fundamentals of Excel. But to gain any meaningful insights, you need to understand formulas and functions. This online training helps you master 75 of these operators, along with many other advanced techniques.
Through visual demos, you learn how to create formula-based formatting rules and link data sets from multiple sources with lookup, index, and match functions. The training also shows you how to shortcut tedious analytics tasks and pull real-time data into Excel for live insights.
These skills are valued in a huge range of industries, including finance, marketing, sales, science, and sports.
Your instructor for this course is Chris Dutton, aka Excel Maven. He is a certified Microsoft Excel Expert and analytics consultant who has mentored over 25,000 students from around the world.
Get the Microsoft Excel: Advanced Excel Formulas & Functions training with certification included while it's deeply discounted to $11.99, a total savings of 93% on the retail price.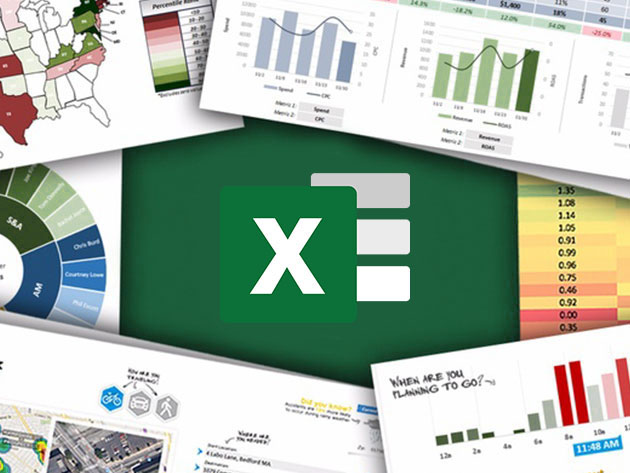 Microsoft Excel: Advanced Excel Formulas & Functions – $11.99

See Deal
Prices subject to change