Emptying the trash is an unfortunate fact of life. But what if your trashcan could make the process less gross?
Enter Townew, the world's first trashcan that seals full bags to lock away bad odor. The device won an Innovation Award at the Consumer Electronics Show, and it's now available to purchase. Hannity viewers can get it today for $83.99 using the 20% off promo code OCTSALE20.
https://www.youtube.com/embed/UrlYDxRhaVM
From the outside, Townew looks like a regular garbage can, albeit a stylish one. The sleek white exterior would suit any modern kitchen. It measures just over 15 inches tall, with a capacity of 15.5 liters.
Townew offers a lot of convenience. When you want to put some trash in, you don't need to touch the lid or use a pedal. Infrared sensor technology detects your presence if you stand over the bin, and the lid lifts automatically. Just another hands-free aspect of this smart gadget.
When the bin is full, Townew recognizes this moment and uses thermoplastic sealing to close the bag, doing more dirty work for you. Townew can still perform this trick if the bag is overfilled, seriously limiting the amount of times you need to manually handle the more germ-ridden aspects of this chore. Even better? Once you remove the full bag, Townew even replaces it with a fresh clean one, so you're ready to go for next time. It's easy to see why this smart device received many plaudits at CES—you might even look forward to taking out the trash.
Townew was on sale for $104.99, but you can save an extra 20% with code OCTSALE20 for a limited time.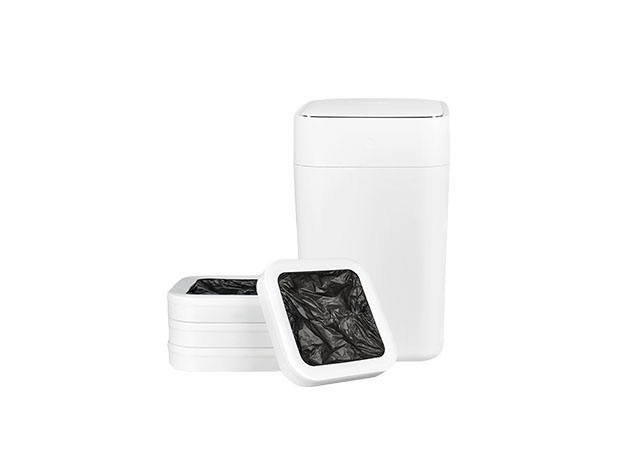 Townew: The World's First Self-Sealing & Changing Trash Can (Value Pack) – $83.99 with code OCTSALE20
See Deal
Prices subject to change
IT'S OFFICIAL: NBA Championship the Least Watched Final Series on Record
The NBA championship series between the Los Angeles Lakers and Miami Heat is officially the least watched final tournament in the association's history, with ratings plummeting after an unconventional season aimed at promoting "social justice."
"Nielsen Media Research reports that 5.6 million viewers tuned in to ABC to watch the Los Angeles Lakers top the Miami Heat to capture the NBA title Sunday night, the lowest-rated Finals series on record," reports The Hill.
"The series, which included the league's biggest star in LeBron James and the second-largest market in Los Angeles, was played from the NBA's coronavirus bubble at Wide World of Sports complex at Walt Disney World in Orlando, Fla., without fans in attendance," adds the website.
For comparison, more than 18 million people tuned-in to watch the NBA final game between the Golden State Warriors and Toronto Raptors just one year ago.
Read the full report at The Hill.
SHUTDOWN 2? Cuomo Says 'Another Shutdown' in New York a 'Possibility' if Cases Rise
New York Governor Andrew Cuomo told NBC News Monday that it's "possible" his state could see another mandatory work shutdown should cases of Coronavirus spiral out of control in the fall.
"There are a lot of people in New York who believe it's inevitable that things will shut down again… Are you preparing for the possibility of another shutdown?" asked NBC News' Willie Geist.
Are you preparing for the possibility of another shutdown? –@WillieGeist

No, I'm not there yet. I believe it's possible, I don't believe it's inevitable. –@NYGovCuomo pic.twitter.com/A5ZjXp0e6D

— TODAY (@TODAYshow) October 12, 2020
"I'm not there yet. I don't believe it's inevitable. I believe it's possible. I think we have to get smarter as a country. We're dealing with the virus. We have to use the science and get more sophisticated," said Governor Cuomo. "We're closing down areas that are about 1 or 2 square miles."
"If you can target that way, and close down small areas, then it's not inevitable that the spread gets so large you have to close an entire city or state," he added.
Watch Cuomo's comments above.