Back in the day, staying in shape meant a light jog and some aerobics. This was about the same time that the food pyramid preached consuming mostly starchy carbs. But now we know better, and one of the things we've learned is the important role of recovery in any fitness routine. Recovery is more than just a rest day, though. The best recovery includes muscle therapy and massage to rejuvenate your body and provide better results. Reaping the benefits of post-workout recovery has never been easier thanks to tools like this BioGrit Massage Gun that's 68% off for a limited time.
Calling this tool a massage gun really doesn't do it justice, because it has tons of customizable features that make it more like 18 massage tools in one. The BioGrit comes with 10 adjustable speed levels to get the intensity just right for the biggest Goldie Locks of the bunch, plus eight attachment heads for targeted massage and relief for different areas. Even the choosiest person will get their perfect match with color options in black and carbon fiber.
If you've been held back from activity due to muscle soreness, you'll love having this gun in the house. The BioGrit's features work hard to combat muscle soreness, body fatigue, stiffness, and spasms so you can get back to it after a particularly intense workout, long day weeding the garden, or rambunctious playdate with the grandkids. Toss it in your gym bag for use in the locker room or take it along to the office—it's wireless and silent. 
Score this BioGrit Massage Gun with eight replaceable heads while it's on sale for just $139.99, a savings of 68%.
Prices subject to change.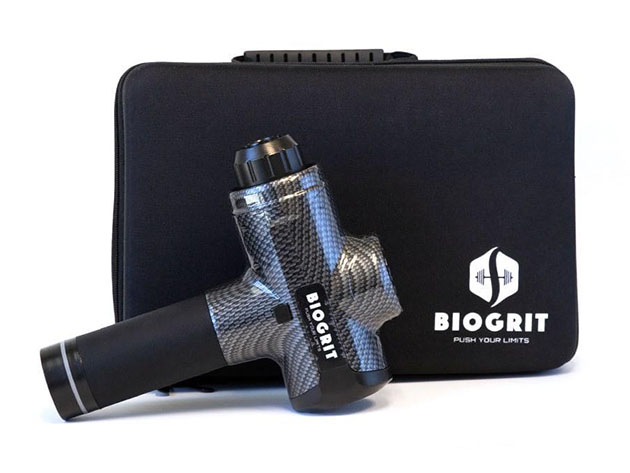 BioGrit Massage Gun + 8 Replaceable Massage Heads (Carbon Fiber) – $139.99

See Deal
BLM on CHICAGO LOOTING: Movement 'More Important Than Downtown Corporations'
The Chicago Chapter of 'Black Lives Matter' publicly defended looters this week after rioters robbed dozens of stores; saying the movement is "more important than downtown corporations."
"In a predictable and unfortunate move, [Mayor Lori Lightfoot] did not take this time to criticize her officers for shooting yet another Black man. Lightfoot instead spent her time attacking 'looters,'" the group said in a Monday statement. "The mayor clearly has not learned anything since May, and she would be wise to understand that the people will keep rising up until the CPD is abolished and our Black communities are fully invested in."
"These corporations have 'looted' more from our communities than a few protesters ever could, yet the Mayor reserves her anger for the latter," the Black Lives Matter chapter said.
"Over the past few months, too many people — disproportionately Black and Brown — have lost their jobs, lost their income, lost their homes, and lost their lives as the city has done nothing and the Chicago elite have profited," the statement continued. "When protesters attack high-end retail stores that are owned by the wealthy and service the wealthy, that is not 'our' city and has never been meant for us. The mayor cannot expect people to play by her rules as she refuses to treat them with basic dignity. These protests can only end when the safety and wellbeing of our communities is finally prioritized."
Read the full report at the Washington Examiner.
BACKLASH BUILDS: De Blasio in Hot-Water After Admitting City Skipped Permit Process to Paint BLM Murals
Big Apple Mayor Bill de Blasio is facing a growing backlash from furious residents in New York City Monday after the top Democrat admitted his administration skipped the permit process required to paint 'Black Lives Matter' murals on city streets.
"City officials ignored their own application process for public art projects to paint Black Lives Matter murals around the five boroughs, in order to mark an important moment in history, Mayor de Blasio said as his administration faces claims of First Amendment violations for refusing to green light other proposals," reports the New York Post.
"We haven't said 'no' to people, we've said, 'If you want to apply you can apply but there's a process,'" de Blasio said during his City Hall press briefing Monday.
JUST IN: Mayor de Blasio explains how #BlackLivesMatter mural went up, why other groups haven't gotten murals: "What I decided to do with the Black Lives Matter murals… transcends all normal realities because we are in a moment of history where this had to be said and done." pic.twitter.com/fUV6NfbHFP

— The Hill (@thehill) August 3, 2020
"That is something that again transcends all normal realities because we are at a moment of history when that had to be said and done, that's a decision I made," de Blasio said.
"But the normal process continues for anyone who wants to apply," he added.
Read the full report at the New York Post.