If you use a regular toothbrush, maintaining a perfect smile can be hard work. Even if you brush twice a day and floss, you may see a build-up of plaque over time. That's because manual toothbrushes have a hard time reaching every nook and cranny of your teeth. 
You won't have that problem with the AquaSonic Black Series Toothbrush. This powerful brush removes 10 times more plaque than a standard toothbrush — and it's now only $33.99 on a limited-time deal for Hannity viewers.
The key to removing plaque is covering the full surface of your teeth with brushstrokes. But in reality, most people don't know how to brush correctly, so that just doesn't happen with a manual brush. Quite apart from anything, your hand is not that accurate. 
Thanks to a motor that hits 40,000 vibrations per minute, the Black Series toothbrush by AquaSonic does the job much more efficiently. The rapid movements help to disperse plaque quickly and remove staining with minimal effort.
AquaSonic offers four different cleaning modes, including whitening and "soft" for sensitive teeth. You can also engage massage mode for better gum health. The brush delivers small pulses to stimulate your gums, which in turn promotes healing. In one week, you should see a noticeable improvement.
Rated at an impressive 4.7 stars on Amazon, the Black Series comes with a charging dock, 8 spare brush heads, and a compact travel case, so you can keep those gums and pearly whites healthy no matter where you go. 
The AquaSonic Black Series normally retails for $139, but for a limited time, you can get the kit for $39.99, or $99 off.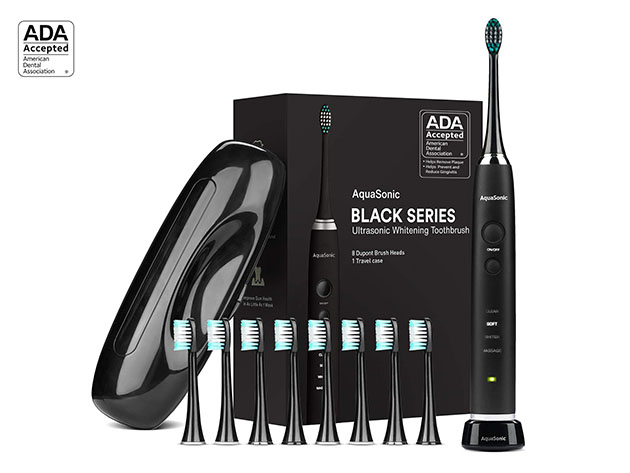 AquaSonic Black Series Toothbrush & Travel Case With 8 Dupont Brush Heads – $33.99 with code ANNUAL15
See Deal
Prices subject to change