The Nintendo Switch console has taken the gaming world by storm in the past few years. However, the device has one weak spot: it does not support Bluetooth headphones.
The HomeSpot Bluetooth Audio Adapter Pro solves this problem, allowing you to connect your headphones to the console and to your smartphone at the same time. It makes a great gift, and Hannity viewers can get it today for just $42.99 — that's 14% off MSRP.
When the Switch launched in 2016, wireless headphones were still a novelty. Fast forward four years, and now everyone is wearing AirPods or similar headphones.
The HomeSpot adapter provides a wireless bridge between the Nintendo Switch and your wireless headphones or speaker. At the same time, your headphones can remain connected to your smartphone.
That means you can hear what is happening in the game while listening to music or chatting with friends. It's a brilliant plug-in-and-play solution. In the age of multitasking gadgets, this one takes the cake and allows gamers to enjoy the best of both worlds.
Rated at 4.7 stars on Amazon, the adapter utilizes the latest Bluetooth technology for simultaneous connections. A built-in mic works for multiplayer chat, and you can answer calls by pressing a button on the adapter.
You can use this gadget with both the Nintendo Switch and the new Switch Lite. It also connects to both iOS and Android devices, with indicator lights showing the Bluetooth status at a glance.
Normally priced at $49, the Homespot adapter makes a great gift and it's now only $42.99.
Prices subject to change.
These Noise-Cancelling Wireless Headphones Are 26% Off Today
When you are trying to enjoy your favorite playlist or podcast, or even focus on an important project, outside distractions are not welcome. Thankfully, there is a way to block out unwanted sound.
The Drive ANC1000 Noise-Cancelling Wireless Headphones make the diversions fade away thanks to patented technology. They are usually priced at $129, but in a special offer for Hannity viewers, you can grab them today for just $94.99.
https://www.youtube.com/embed/dL7bXwKsogU
Whether you need to escape the sound of the subway or take a break from your energetic kids, the Drive ANC1000 can help. The headphones feature NoiseHush Technology, which turns the volume down on city traffic and loud conversations.
Reducing outside noise allows you to hear the sound quality emanating from two 40mm custom-tuned drivers. The Drive headphones deliver rich bass and crisp high notes via Bluetooth 5.0 or a detachable AUX cable. Built-in controls allow you to play and pause your track or answer calls on the go. Four noise-isolating microphones pick up your voice, even in loud environments.
On a full charge, the headphones provide 30 hours of playback with active noise cancellation or 50 hours without. If you're in a hurry, you can quick-charge in just 10 minutes for three hours of battery life—great for when you're about to head out and realize your battery is dead.
The Drive headphones also have soft ear cushions and a padded headband, so you can genuinely listen all day in comfort.
With this deal, you can save 26% on the full price for these premium headphones. Order now for $94.99 to grab them with a free hard-shell travel case included.
Prices subject to change
Learn Vital Data Skills to Advance Your Career with This $12 Excel Training
From political polling to financial forecasts, data plays an important part in every industry. To really impress recruiters, you need to show you can crunch the numbers beyond the basics.
The Microsoft Excel: Advanced Excel Formulas & Functions course shows you how, with six hours of hands-on training worth $195 that are just $11.99, thanks to a limited-time extra discount on the sale price of $29.99.
Most of us know how the fundamentals of Excel. But to gain any meaningful insights, you need to understand formulas and functions. This online training helps you master 75 of these operators, along with many other advanced techniques.
Through visual demos, you learn how to create formula-based formatting rules and link data sets from multiple sources with lookup, index, and match functions. The training also shows you how to shortcut tedious analytics tasks and pull real-time data into Excel for live insights.
These skills are valued in a huge range of industries, including finance, marketing, sales, science, and sports.
Your instructor for this course is Chris Dutton, aka Excel Maven. He is a certified Microsoft Excel Expert and analytics consultant who has mentored over 25,000 students from around the world.
Get the Microsoft Excel: Advanced Excel Formulas & Functions training with certification included while it's deeply discounted to $11.99, a total savings of 93% on the retail price.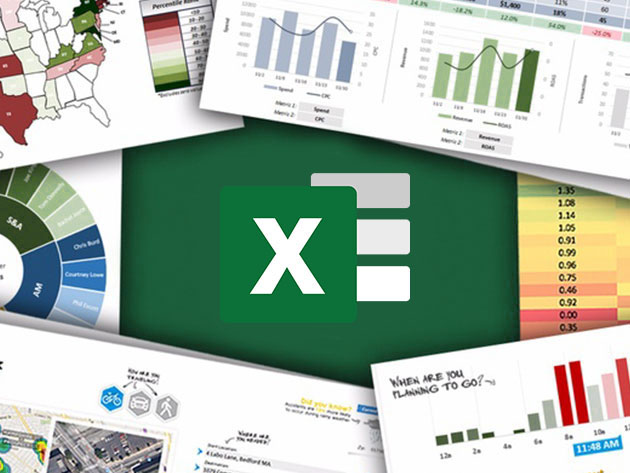 Microsoft Excel: Advanced Excel Formulas & Functions – $11.99

See Deal
Prices subject to change