There are many benefits to speaking a second language, from exploring a different culture to making new friends. Now that we've all got more time on our hands at home, why not use it to learn a new language?
To make the learning process easier, Mondly uses fun mini games and speech recognition technology. Right now, Hannity viewers can get lifetime access to this highly-rated app for just $99.99 — that's more than $2,000 off the full price.
Many of us have bad memories of foreign language classes in high school. Trying to pick up words and phrases from a blackboard is enough to put you off the idea for life. Mondly offers a completely different experience. This Apple App of the Year and Google Play Editor's Choice helps you master 33 languages without a single textbook or line of chalk.
Focusing on real-world vocabulary, Mondly introduces words and phrases through pictures, quizzes, and simulated conversations. You'll also get to hear every word pronounced by a native speaker, and the app listens to your attempt.
To make the experience even more exciting, Mondly uses AR technology. When you point your smartphone at an object, the app shows you the word in your new language. This method of learning is remarkably fun, and it helps you progress faster. What's more, the lessons take only a few minutes each day, so you can fit them in during a lunch break, or any pocket of time you can find in your busy day.
You would normally pay $2,199 for lifetime access to Mondly. But with this deal, the price is just $99.99. Get it today for yourself, or treat someone you love this holiday season.
Prices subject to change.
Learn Vital Data Skills to Advance Your Career with This $12 Excel Training
From political polling to financial forecasts, data plays an important part in every industry. To really impress recruiters, you need to show you can crunch the numbers beyond the basics.
The Microsoft Excel: Advanced Excel Formulas & Functions course shows you how, with six hours of hands-on training worth $195 that are just $11.99, thanks to a limited-time extra discount on the sale price of $29.99.
Most of us know how the fundamentals of Excel. But to gain any meaningful insights, you need to understand formulas and functions. This online training helps you master 75 of these operators, along with many other advanced techniques.
Through visual demos, you learn how to create formula-based formatting rules and link data sets from multiple sources with lookup, index, and match functions. The training also shows you how to shortcut tedious analytics tasks and pull real-time data into Excel for live insights.
These skills are valued in a huge range of industries, including finance, marketing, sales, science, and sports.
Your instructor for this course is Chris Dutton, aka Excel Maven. He is a certified Microsoft Excel Expert and analytics consultant who has mentored over 25,000 students from around the world.
Get the Microsoft Excel: Advanced Excel Formulas & Functions training with certification included while it's deeply discounted to $11.99, a total savings of 93% on the retail price.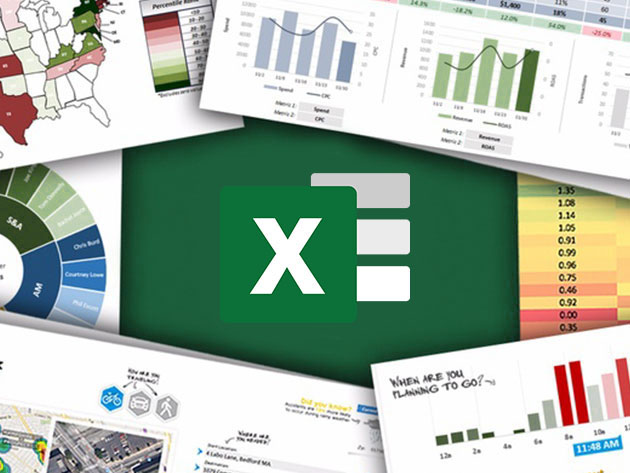 Microsoft Excel: Advanced Excel Formulas & Functions – $11.99

See Deal
Prices subject to change
These $260 Noise-Canceling Bluetooth Headphones Are Only $80 Today
When you are trying to enjoy music or your favorite podcast, the outside world can be pretty distracting. Thankfully, technology has answers.
The TREBLAB Z2 Bluetooth 5.0 Noise-Canceling Headphones help to shield your ears from the things you don't want to hear, while delivering crisp wireless audio all day and night long. They usually retail for $259 — but in a special offer for Hannity viewers, you can pick them up today for $78.99.
https://www.youtube.com/embed/MkvpaYSJp4g
Whether you are looking to escape or trying to focus on a project, music and podcasts can provide an assist. But when background noise sneaks through, the entire vibe is ruined. Named an Amazon's Choice product, the TREBLAB Z2 headphones provide the ultimate audio cocoon. Unrivaled T-Quiet active noise-canceling technology makes unwanted sounds disappear, without affecting the audio performance.
Speaking of sound quality, these headphones provide a premium listening experience. You listen through neodymium-backed 40mm drivers, which deliver crisp highs, rich mid-tones, and deep bass. They connect wirelessly to your phone via Bluetooth 5.0, which is the latest standard. As a result, you won't get the crackle or hiss that wireless audio used to suffer from.
On a full charge, you get 35 hours of listening time. Thanks to an ergonomic design, you could happily wear them that long — and you can even use the built-in mic with Siri or Google Assistant to help you stay connected and handle important work tasks throughout the day.
Normally priced at $259, the Z2 headphones are now only $78.99 with this deal.
Prices subject to change