If you want to get better at anything in life, it makes sense to learn from the best. When it comes to fitness, Jillian Michaels is the best.
This world-famous expert can't be everywhere at the same time, but you can access her knowledge on demand through Jillian Michaels: The Fitness App. Right now, Hannity viewers can get lifetime access for just $149.99 — that is 66% off the full price.
https://www.youtube.com/embed/iQ25AXf-1lY
It would be fair to say that Jillian Michaels is probably the most popular fitness coach in the world. Over the past 18 years, she has released 20 fitness DVDs that sold over 100 million copies, and eight New York Times bestselling books.
Now, this certified trainer is sharing her programs on any device you wish to use for viewing. Rated at 4.7 stars on the App Store and 4.5 stars on Android, The Fitness App is the ultimate tool for anyone wanting to get in shape and keep up with their health.
The app offers over 800 workout exercises, ranging from beginner to advanced. This library also covers a range of different routines, from HIIT to targeted plans.
Based on your goals and the equipment you have available, the app creates a unique workout just for you. The personalized session also takes into account how much time you have to spare, and your preferences for specific exercises. It even syncs with the beat of your chosen music.
To ensure you get the right nutrition around each workout, you can even use the app to create a personalized diet plan.
Lifetime access is worth $449, but you can grab your subscription today for only $149.99.
Prices subject to change.
Play Some of the Great Golf Courses at Home With $59 Off This Advanced Simulator
Whether it's coronavirus, wildfires, or way too much work, there are many reasons you might not get to your favorite golf course. Thankfully, there is a way to practice your swing virtually anywhere.
PhiGolf is a smart golf simulator that allows you to play virtual replicas of the world's greatest courses. The package is usually priced at $249, but Hannity viewers can get it today for $190 with promo code GOLF10.
The key to becoming a great golfer is practice, practice, and more practice. When you can't be at the range, PhiGolf helps you play. This simulator is based around the Swing Stick, a device that is designed to feel like a club in your hands.
When you complete your swing, sensors analyze the exact movements you make. This information is relayed to the companion app on your phone, where you can get tips on how to improve.
You can also use PhiGolf to play the popular WGT Golf mobile game. This allows you to take on thousands of other golfers around the world on courses like St. Andrews and Pebble Beach. You can see every shot on your phone or you can hook up the game to any display.
PhiGolf raised over $200,000 on Indiegogo, and it has picked up some great reviews. You can get it today for just $190 when you use code GOLF10 to take $59 off the MSRP.
Prices subject to change
Learn Vital Data Skills to Advance Your Career with This $12 Excel Training
From political polling to financial forecasts, data plays an important part in every industry. To really impress recruiters, you need to show you can crunch the numbers beyond the basics.
The Microsoft Excel: Advanced Excel Formulas & Functions course shows you how, with six hours of hands-on training worth $195 that are just $11.99, thanks to a limited-time extra discount on the sale price of $29.99.
Most of us know how the fundamentals of Excel. But to gain any meaningful insights, you need to understand formulas and functions. This online training helps you master 75 of these operators, along with many other advanced techniques.
Through visual demos, you learn how to create formula-based formatting rules and link data sets from multiple sources with lookup, index, and match functions. The training also shows you how to shortcut tedious analytics tasks and pull real-time data into Excel for live insights.
These skills are valued in a huge range of industries, including finance, marketing, sales, science, and sports.
Your instructor for this course is Chris Dutton, aka Excel Maven. He is a certified Microsoft Excel Expert and analytics consultant who has mentored over 25,000 students from around the world.
Get the Microsoft Excel: Advanced Excel Formulas & Functions training with certification included while it's deeply discounted to $11.99, a total savings of 93% on the retail price.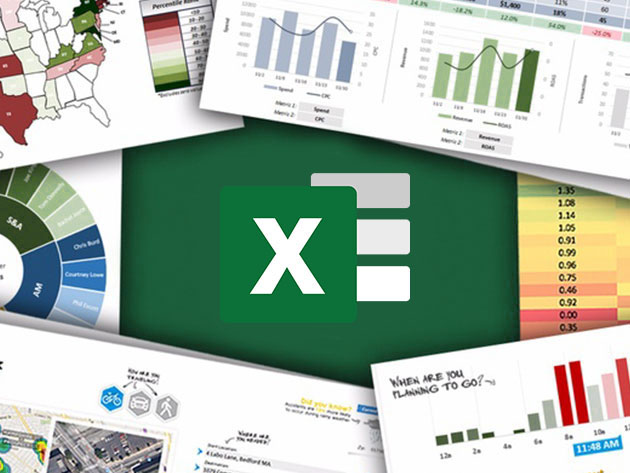 Microsoft Excel: Advanced Excel Formulas & Functions – $11.99

See Deal
Prices subject to change