It only takes a few hours of peering at your laptop the wrong way to start some terrible neck ache. And, with all the time we've spent working from home this year, that pain seems to be following us around everywhere we situate ourselves. Thankfully, this revolutionary technology can solve that problem.
The Smart Pulsator Neck Relief Massager uses a combination of soothing pulses and healing heat to melt away the knots. This soothing gadget usually retails for $169, but Hannity viewers can get it today for just $69.99 — that is 58% off MSRP.
Imagine a soothing massage. In all likelihood, you are imagining a massage therapist working on your tight shoulders. Just as skillful hands can release tension and improve recovery, this Massager provides instant relief on demand.
This device uses a combination of electrical pulses and cozy warmth. The low-frequency signals stimulate your muscles, which have almost the same effect as fingers working on knots. At the same time, the whole device heats to 107.6°F to relax blood vessels and improve circulation.
In addition, the massager helps the lymphatic system. As a result, more oxygen flows in your blood and toxins are pumped away from the muscles.
The massager itself is easy to use and very comfortable to wear. You can choose from 15 different levels of intensity, and one hour of USB charging will give you 10 days of 30-minute sessions.
Whether you want to relax before bed or recover from a major workout, this smart massager is a great tool to have.
Order today for just $69.99 to get the device and save almost $100 on the full price.
Prices subject to change.
Save 68% On This Professional-Grade Massage Gun
Back in the day, staying in shape meant a light jog and some aerobics. This was about the same time that the food pyramid preached consuming mostly starchy carbs. But now we know better, and one of the things we've learned is the important role of recovery in any fitness routine. Recovery is more than just a rest day, though. The best recovery includes muscle therapy and massage to rejuvenate your body and provide better results. Reaping the benefits of post-workout recovery has never been easier thanks to tools like this BioGrit Massage Gun that's 68% off for a limited time.
Calling this tool a massage gun really doesn't do it justice, because it has tons of customizable features that make it more like 18 massage tools in one. The BioGrit comes with 10 adjustable speed levels to get the intensity just right for the biggest Goldie Locks of the bunch, plus eight attachment heads for targeted massage and relief for different areas. Even the choosiest person will get their perfect match with color options in black and carbon fiber.
If you've been held back from activity due to muscle soreness, you'll love having this gun in the house. The BioGrit's features work hard to combat muscle soreness, body fatigue, stiffness, and spasms so you can get back to it after a particularly intense workout, long day weeding the garden, or rambunctious playdate with the grandkids. Toss it in your gym bag for use in the locker room or take it along to the office—it's wireless and silent. 
Score this BioGrit Massage Gun with eight replaceable heads while it's on sale for just $139.99, a savings of 68%.
Prices subject to change.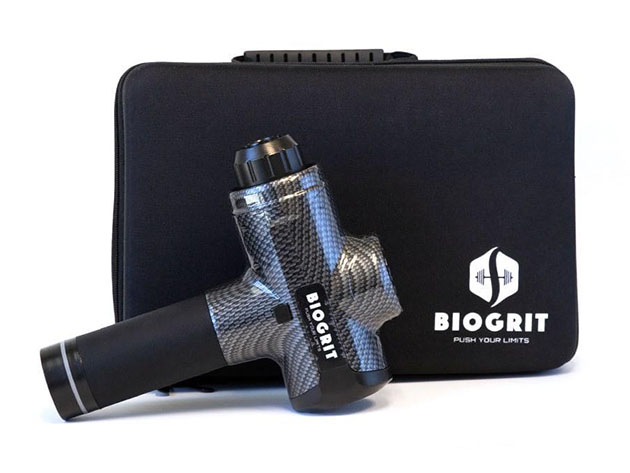 BioGrit Massage Gun + 8 Replaceable Massage Heads (Carbon Fiber) – $139.99

See Deal
Soothe Your Aching Feet With This Deluxe Massager That's $15 Off
For anyone who works on their feet, soreness in the lower legs is a familiar feeling. Not sure how to get relief? Technology has answers.
With 20 speeds and nine different massage programs, the Foot Vibe Deluxe Massaging Footrest helps your feet and legs feel better fast. It's normally $165, but Hannity viewers can get it for $149.99.
Massage therapy is proven to increase blood flow, which helps the body to repair damage. It can also help to drain away lactic acid, so you feel less sore the morning after a long day of walking or standing.
With Foot Vibe, you can get a massage every time you sit down in your favorite chair — including your desk chair. You simply place your feet on the rubberized platform and press Start.
While the soles of your feet press against soothing shapes, a vibrating bar helps to loosen up the ball of your foot and your toes. At the same time, Foot Vibe works the arch of your foot, which is often a trouble area after hours of standing.
If your calves are the main problem, you can tip Foot Vibe forward and place the back of your legs against the platform. Once again, the device helps to soothe tight muscles and stimulate faster recovery.
You'll have fine control over the intensity of vibrations thanks to the supplied wireless remote. The platform is also easy to clean and suitable for feet of all sizes, making it a great addition to your work-from-home office so you can take a rejuvenating break at any moment.
Get yourself a Foot Vibe Deluxe Massaging Footrest while it's available for $149.99.
Prices subject to change