To be successful in business, you need to know how to sell your product or service. Not everyone is a natural, but anyone can learn how to persuade and close.
With seven courses from top experts, The Ultimate Sales Master Class Bundle helps you master these skills. The training is worth $1,400, but Hannity viewers can get the bundle today for just $29.99.
Whether you are building your own business or working for someone else, sales skills are invaluable — even if you're only pitching yourself to recruiters. Offering 17 hours of video tutorials, this bundle guides you through key sales concepts and proven techniques.
The foundation for this training is the BLITZSALES framework, which was developed by course instructor, Stefan Devito. Rated at 4.6 stars on Udemy, Devito has used his own framework to build a passive income stream.
The framework covers eight different topics on sales and persuasion. Individual lessons look at lead generation and prospecting, qualifying, body language, fact finding, and more.
You can extend your knowledge with separate courses on body language and pitching. Other courses in the bundle look at brand marketing, personality development, account management, and value proposition.
The training provides real-world techniques that you can put into practice immediately, and these courses have an average rating of 4.3 stars.
Order today for just $29.99 to get lifetime access to all seven courses, worth $1,400 all together.
Prices subject to change
Dive into data analysis with this Excel and Alteryx training, now 91% off
From sales figures to finance forecasts, data analysis guides decision-making in every industry. For obvious reasons, people who know how to crunch the numbers and spot trends are always in demand. If you want to sharpen your skills for a new role, or get promoted in your current one, this bundle may be just what you've been looking for.
The 2021 Excel to Alteryx Data Analyst Essentials Bundle helps you acquire this valuable skill-set, with 22.5 hours of hands-on training. The included courses are worth $348 all together, but Hannity viewers can order the bundle today for only $29.99 in a special offer.
You probably know something about Excel if you have ever worked behind a desk. Alteryx is a more specialized tool, used by data professionals to combine multiple data sources and run advanced analytics.
This bundle helps you master both apps, with four courses and 179 video tutorials. The lessons walk you through all of the key features of Excel, including VLOOKUP, IF, SUMIF, Forecasts, Conditional Formatting, Histograms, and much more.
You will also get an in-depth look at Power Pivot, Power Query, and DAX in Excel, along with advanced PivotTable techniques.
Starting with the fundamentals, the training on Alteryx is perfect for beginners. Through six hours of instruction, you will learn how to filter data, build visual workflows, create reports, and much more.
All of these courses come from Stream Skill, which is part of the Simon Sez online education family. This publisher has a rating of 4.4 stars, and the group has taught over 430,000 students. Order today for just $29.99 to get lifetime access to the courses, worth $348.
Prices subject to change.
Learn Vital Data Skills to Advance Your Career with This $12 Excel Training
From political polling to financial forecasts, data plays an important part in every industry. To really impress recruiters, you need to show you can crunch the numbers beyond the basics.
The Microsoft Excel: Advanced Excel Formulas & Functions course shows you how, with six hours of hands-on training worth $195 that are just $11.99, thanks to a limited-time extra discount on the sale price of $29.99.
Most of us know how the fundamentals of Excel. But to gain any meaningful insights, you need to understand formulas and functions. This online training helps you master 75 of these operators, along with many other advanced techniques.
Through visual demos, you learn how to create formula-based formatting rules and link data sets from multiple sources with lookup, index, and match functions. The training also shows you how to shortcut tedious analytics tasks and pull real-time data into Excel for live insights.
These skills are valued in a huge range of industries, including finance, marketing, sales, science, and sports.
Your instructor for this course is Chris Dutton, aka Excel Maven. He is a certified Microsoft Excel Expert and analytics consultant who has mentored over 25,000 students from around the world.
Get the Microsoft Excel: Advanced Excel Formulas & Functions training with certification included while it's deeply discounted to $11.99, a total savings of 93% on the retail price.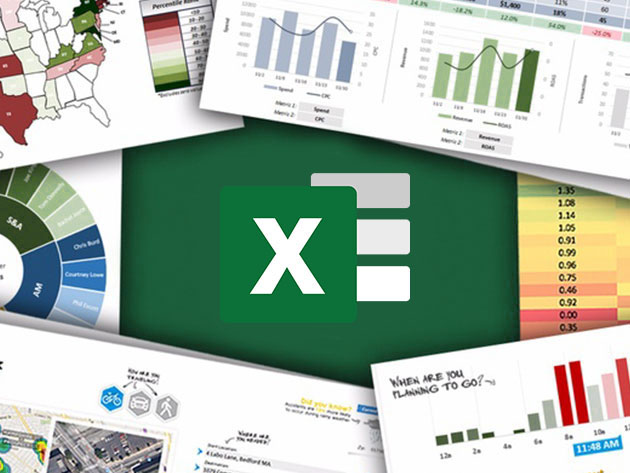 Microsoft Excel: Advanced Excel Formulas & Functions – $11.99

See Deal
Prices subject to change