To maintain a perfect smile, you need to be consistent and thorough about brushing your teeth. There's no need to make the process any harder by using a manual toothbrush, especially since electric toothbrushes are so affordable these days.
Shyn Sonic Rechargeable Electric Toothbrush removes seven times more plaque than manual brushes, and it's approved by the ADA (American Dental Association). It's normally priced at $130, but you can get it today for just $34 with code VIP15 in a special deal for Hannity viewers.
Keeping plaque at bay requires you to brush your teeth at least two times a day, but that doesn't mean a lazy couple of minutes with a manual brush. You need to cover every millimeter of enamel, otherwise, some plaque will remain.
With a brush head that vibrates 31,000 times per minute, the Shyn Sonic Electric Toothbrush makes it much easier to get the job done. At the same time, a pressure sensor in the brush alerts you if you're pressing down too hard, and a two-minute timer tells you when to stop. In combination, these features help you remove plaque efficiently without causing damage to your teeth or gums.
The Shyn Sonic also has five intensity settings and four modes, meaning you can adjust the brush to your needs. Soft mode is great for sensitive teeth, while Massage mode encourages blood flow to the gums for faster repair. This brush is actually very effective at preventing gingivitis.
With a battery that lasts for a whole week, the Shyn Sonic is also great for taking on vacation. It won People Magazine's Travel Award for Best Electric Toothbrush to prove the point.
It's normally $130, but you can get the Shyn Sonic today for just $34 (CODE: VIP15 at checkout) )with four spare heads, a charging station, and a travel case included.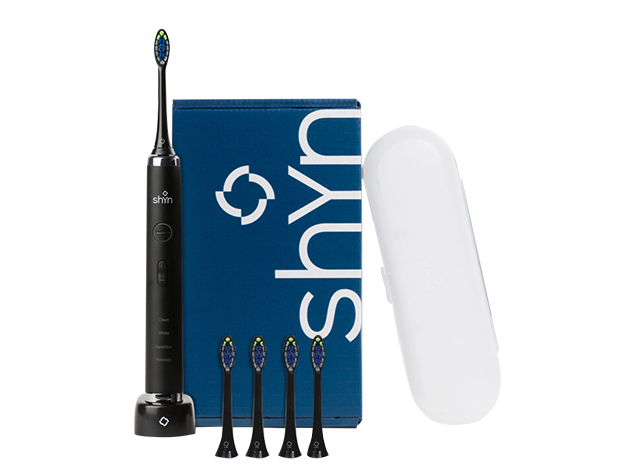 Shyn Sonic Rechargeable Electric Toothbrush with 4 Anti-Plaque Brush Heads, Travel Case & Charger (Black) – $34 with code VIP15
See Deal
Prices subject to change