Now more than ever, creating a source of passive income is a smart move. Real estate investing can be a lucrative option — but how exactly do you buy and sell homes for profit?
The Complete Real Estate Investing: Learn to Fix & Flip, Step-by-Step Bundle reveals all, with 30 hours of training from property traders with a track record of success. The content is worth $1,800 in total, but for a limited time, Hannity viewers can get the bundle for just $39.99.
Many of us have dreamed about buying a tired old home, renovating it to make it beautiful, and selling it for a profit. But, unless you have gone through the process before, taking on this kind of project can seem pretty daunting, and it requires a great deal of know-how if you want to make the big bucks.
Through nine video courses, this bundle gives you the knowledge and confidence to start flipping properties. The training includes tips and tricks from seasoned professionals, helping you to make smart decisions and maximize the value of your investment.
Along the way, you'll learn how to track down cheap property with potential, and perform a proper investment analysis. You'll also pick up some key DIY skills for making repairs, and learn how to work with real estate agents to sell the finished home.
These courses have an average rating of 4.4 stars from former students, and they are delivered by experienced property flippers.
Order today for just $39.99 to get lifetime access to all the content, and save 97% on the full price.
Prices subject to change.
Save 68% On This Professional-Grade Massage Gun
Back in the day, staying in shape meant a light jog and some aerobics. This was about the same time that the food pyramid preached consuming mostly starchy carbs. But now we know better, and one of the things we've learned is the important role of recovery in any fitness routine. Recovery is more than just a rest day, though. The best recovery includes muscle therapy and massage to rejuvenate your body and provide better results. Reaping the benefits of post-workout recovery has never been easier thanks to tools like this BioGrit Massage Gun that's 68% off for a limited time.
Calling this tool a massage gun really doesn't do it justice, because it has tons of customizable features that make it more like 18 massage tools in one. The BioGrit comes with 10 adjustable speed levels to get the intensity just right for the biggest Goldie Locks of the bunch, plus eight attachment heads for targeted massage and relief for different areas. Even the choosiest person will get their perfect match with color options in black and carbon fiber.
If you've been held back from activity due to muscle soreness, you'll love having this gun in the house. The BioGrit's features work hard to combat muscle soreness, body fatigue, stiffness, and spasms so you can get back to it after a particularly intense workout, long day weeding the garden, or rambunctious playdate with the grandkids. Toss it in your gym bag for use in the locker room or take it along to the office—it's wireless and silent. 
Score this BioGrit Massage Gun with eight replaceable heads while it's on sale for just $139.99, a savings of 68%.
Prices subject to change.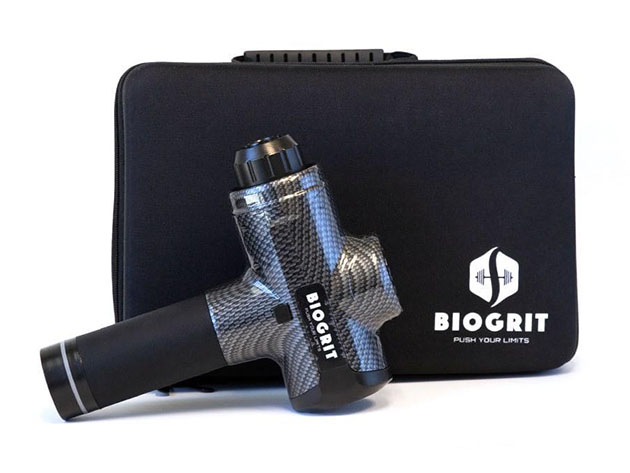 BioGrit Massage Gun + 8 Replaceable Massage Heads (Carbon Fiber) – $139.99

See Deal
This Germ Eliminator Uses NASA Technology to Scrub the Air and Is Now Under $60
To protect astronauts in orbit, the International Space Station has technology that eliminates germs and bad smells inside the spacecraft. Now, the same technology is available on earth.
VentiFresh Plus is a small device that uses NASA technology to keep your home fresh and clean. It's normally priced $84, but thanks to a special sale for Hannity viewers, you can get the device today for just $58.99.
https://www.youtube.com/embed/5LfDWY_2iog
From pet odor to a certain virus, many unwanted particles float around in the air. While air purifiers can solve the problem, most are bulky and expensive to run.
In contrast, VentiFresh Plus measures just 2.5 inches across. It traps odor and germs using a UV-C photocatalyst core, meaning there are no costly filters to buy and replace. You simply attach a power source via the supplied cable and set the device to work.
Being so small, VentiFresh Plus can be placed virtually anywhere. The supplied gel pad allows you to stick the device to any surface, and you have two modes to choose from: Turbo and Quiet. The latter is useful if you plan to use the device in a bedroom or office.
VentiFresh Plus is effective at scrubbing away all kinds of smells, including cat litter, sweaty shoes, and food. It destroys other microbes, too, such as bacteria and viruses.
VentiFresh hit 388% funding on Indiegogo, and it's now available to buy. You can get it today for just $58.99, saving 29% on the full price.
Prices subject to change