This holiday season, gamers across the world have been excited to get their hands on the new PlayStation 5 and Xbox X Series consoles.
Want to experience the same rush and do something positive at the same time? With the Ultimate Gaming Giveaway, you'll earn chances to win both new consoles, plus a whole heap of gaming tech by donating to charity.
First, let's talk about the prize. The PS5 and Xbox X Series are the two most powerful home games consoles ever made. They deliver incredible 4K graphics, allowing you to enjoy the latest installments of Gran Turismo, Final Fantasy, Watch Dogs, and Call of Duty, among many others.
To help you make the most of those slick graphics, you'll get a Sony X900H 65" 4K Smart LED TV. You'll also get a Bose QuietComfort 35 Series 2 Gaming Headset, a Corsair Optical Gaming Keyboard, a Secretlab TITAN Gaming Chair, and five years of PlayStation Plus and Xbox Game Pass Ultimate for online multiplayer.
If you went out and bought everything in this prize, you could expect to spend $5,115.
For your chance to win, we're asking you to donate to a great cause: The Playing For Change Foundation. This non-profit organization has used music education to bring positive change to over 2,000 kids in 10 countries around the world.
Donating $10 gets you 100 entries, $15 gets you 150 entries, $25 gets you $250 entries, and $50 gets you the full 500 entries (you can also get one entry free here). Best of luck!
Prices subject to change.
This Sterilizing Robot Will Keep Your Home Germ-Free and It's Now 31% Off
When there is a nasty virus around, keeping your home clean is a better idea than it usually is. However, disinfecting every surface takes time. Too much time.
That is where ROCKUBOT comes in. This smart sterilizing robot rolls around your home, automatically killing germs using UV-C light. It sells for $159, but Hannity viewers can get it for $108.99 for a limited time.
https://www.youtube.com/embed/vwIliIm9TU4
Robot vacuum cleaners have been around for quite some time now, and that's essentially the technology that the ROCKUBOT is based on. These vacuuming machines learn their way around your home and spend the day keeping the floor free of debris. The difference with the smart sterilizing robot is that it focuses on bacteria, viruses, and mites—essentially the dirt you can't see.
As featured on Indiegogo and Kickstarter, the bot has powerful UV-C lights that operate at 4050μW/cm. This wavelength kills 99.99% of germs. At the same time, ROCKUBOT emits ultrasonic waves to disrupt mites lodged deep in carpets.
In automatic mode, the ROCKUBOT rolls around sterilizing the floor. Smart mapping allows the bot to navigate your home, while 24 sensors pick up obstacles and other hazards.
Need to sterilize something above floor height? This bot has you covered. You can pick up ROCKUBOT and switch to manual mode to use it as a handheld device. The device also has a built-in 5,000mAh battery that can charge your phone wirelessly, and it can play music via Bluetooth. ROCKUBOT is one seriously smart robot.
You would normally pay $159 for the musical version, but it's currently just $108.99 with this deal.
Prices subject to change
Learn Vital Data Skills to Advance Your Career with This $12 Excel Training
From political polling to financial forecasts, data plays an important part in every industry. To really impress recruiters, you need to show you can crunch the numbers beyond the basics.
The Microsoft Excel: Advanced Excel Formulas & Functions course shows you how, with six hours of hands-on training worth $195 that are just $11.99, thanks to a limited-time extra discount on the sale price of $29.99.
Most of us know how the fundamentals of Excel. But to gain any meaningful insights, you need to understand formulas and functions. This online training helps you master 75 of these operators, along with many other advanced techniques.
Through visual demos, you learn how to create formula-based formatting rules and link data sets from multiple sources with lookup, index, and match functions. The training also shows you how to shortcut tedious analytics tasks and pull real-time data into Excel for live insights.
These skills are valued in a huge range of industries, including finance, marketing, sales, science, and sports.
Your instructor for this course is Chris Dutton, aka Excel Maven. He is a certified Microsoft Excel Expert and analytics consultant who has mentored over 25,000 students from around the world.
Get the Microsoft Excel: Advanced Excel Formulas & Functions training with certification included while it's deeply discounted to $11.99, a total savings of 93% on the retail price.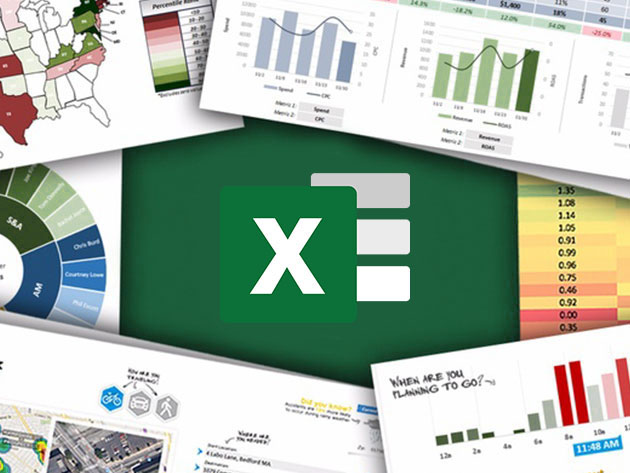 Microsoft Excel: Advanced Excel Formulas & Functions – $11.99

See Deal
Prices subject to change