Why wait for others to lead you into a new year when you can meet this moment and cultivate your own leadership skills? There is no time like the present to take the reins on your career, benefiting your financial and professional future, and the tools you need are at your fingertips thanks to a limited-time opportunity.
A lifetime subscription to Methods of Leadership Online Learning is an outstanding resource that enables you to learn what that kind of leap requires, and thanks to a sitewide 20-percent off coupon (use promo code HOLIDAY20), you'll drop a discounted price even further. This subscription is typically valued at $2,940 but only costs $118.39 with the coupon.
As new business opportunities arise, it's the perfect chance to discover proven paths toward success or chart your own. With insight from some of the top CEOs, executive coaches, thought leaders, and business thinkers on the planet, this 42-lesson online course could be the key to your "light bulb" moment.
Founded by Marshall Goldsmith, a distinguished author and editor of 42 books, including the acclaimed Triggers and What Got You Here Won't Get You There, assembled 100 coaches to construct an immersive experience that includes 69 hours of insightful content.
This innovative platform of interactive online learning makes information easy to digest while served up in actionable bite-sized segments and a comprehensive collection of straight-forward business advice.
The courses offer customized training paths and engaging experiences that adapt to the user in a "choose your own adventure" style. Along the way, you'll access supplementary tools and materials to increase absorption and application.
This course is perfect for serious learners or already experienced managers who are ready to dive headlong into discovering their own full leadership potential. Take lessons from top world leaders, gain clarity on how to encounter and overcome daily challenges, and navigate organizational transformation.
Of course, introspection is paramount, and you'll be well-equipped to identify personal strengths and weaknesses while building the foundation for sustainable success. Uncover your sharp edges, become self-aware, increase your effectiveness, and enhance relational skills that can make all the difference
Stop sticking with the pack. Emerge as the leader you've always wanted to become with this in-depth educational experience, and take 20 percent off using coupon code HOLIDAY20.
Prices subject to change.
Play Some of the Great Golf Courses at Home With $59 Off This Advanced Simulator
Whether it's coronavirus, wildfires, or way too much work, there are many reasons you might not get to your favorite golf course. Thankfully, there is a way to practice your swing virtually anywhere.
PhiGolf is a smart golf simulator that allows you to play virtual replicas of the world's greatest courses. The package is usually priced at $249, but Hannity viewers can get it today for $190 with promo code GOLF10.
The key to becoming a great golfer is practice, practice, and more practice. When you can't be at the range, PhiGolf helps you play. This simulator is based around the Swing Stick, a device that is designed to feel like a club in your hands.
When you complete your swing, sensors analyze the exact movements you make. This information is relayed to the companion app on your phone, where you can get tips on how to improve.
You can also use PhiGolf to play the popular WGT Golf mobile game. This allows you to take on thousands of other golfers around the world on courses like St. Andrews and Pebble Beach. You can see every shot on your phone or you can hook up the game to any display.
PhiGolf raised over $200,000 on Indiegogo, and it has picked up some great reviews. You can get it today for just $190 when you use code GOLF10 to take $59 off the MSRP.
Prices subject to change
Learn Vital Data Skills to Advance Your Career with This $12 Excel Training
From political polling to financial forecasts, data plays an important part in every industry. To really impress recruiters, you need to show you can crunch the numbers beyond the basics.
The Microsoft Excel: Advanced Excel Formulas & Functions course shows you how, with six hours of hands-on training worth $195 that are just $11.99, thanks to a limited-time extra discount on the sale price of $29.99.
Most of us know how the fundamentals of Excel. But to gain any meaningful insights, you need to understand formulas and functions. This online training helps you master 75 of these operators, along with many other advanced techniques.
Through visual demos, you learn how to create formula-based formatting rules and link data sets from multiple sources with lookup, index, and match functions. The training also shows you how to shortcut tedious analytics tasks and pull real-time data into Excel for live insights.
These skills are valued in a huge range of industries, including finance, marketing, sales, science, and sports.
Your instructor for this course is Chris Dutton, aka Excel Maven. He is a certified Microsoft Excel Expert and analytics consultant who has mentored over 25,000 students from around the world.
Get the Microsoft Excel: Advanced Excel Formulas & Functions training with certification included while it's deeply discounted to $11.99, a total savings of 93% on the retail price.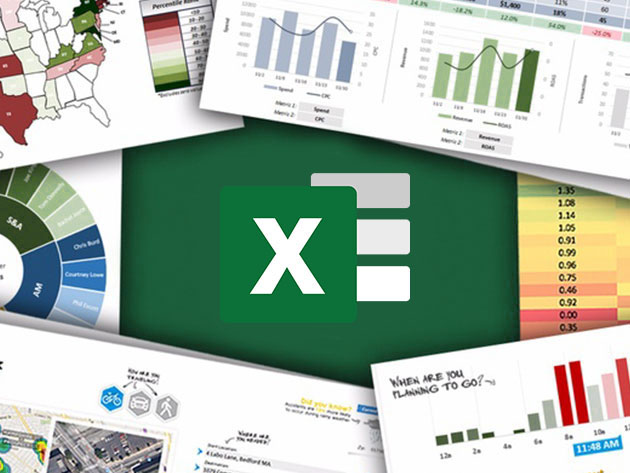 Microsoft Excel: Advanced Excel Formulas & Functions – $11.99

See Deal
Prices subject to change